Discussion Starter
•
#1
•
I have a problem with VVL activation. A few months ago I sent the head to change the valve seals (they had to disassemble it completely to change them).
After installing the engine, the VVL is no longer activated.
1) I checked the lift bolts, and they were loose (I don't know if they didn't adjust them, or they were released over time. I upload video of how I found them when I uncovered the valve cover: Video #2. I checked them, they are like new. I changed them last year. They are conical.
2) I adjusted the lift bolts and then test, still not activating VVL.
3) Video 1: I operated the VVL solenoid manually with the engine running. The oil pressure drops from 90 psi to 56 psi when VVL is activated, but the engine shows no sign of shutting down.
According to the tests, I deduce that the problem is mechanical, incorrect assembly of the parts. I think there are 3 pieces that work on the activation of VVL: lift bolts (ok), Valve Rocker Shaft and Valve Rocket Arm.
How can I know that these last two are well installed? Any other reason why not engage the VVL?
Videos:
1) Solenoid test (engine on):
2) loose bolts:
3) Solenoid test (engine off):
Photos: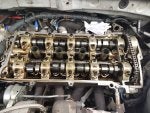 (click for full size)