FOR SALE: 2001 MR2 Spyder w/ 37k miles Perfect Condition Clean Carfax
Silver with Red Interior
$10,505.52
Mere Modest Modifications
(Extras/Add-ons/Upgrades/ Details)
• DeBadged, Screamin' Chicken Nose Badge RED,
• Gutted-Cats, Done at 10K miles
• Clear Bra(s), (A-Pillar, Mirrors, Bumper and Front 1/3 of Hood,)
• Professionally Painted Calipers (Red,)
• Takuban Spydee Stickers,
• Dev's top strap,
• BRAND NEW Team Moon Stainless Steel Dual Exhaust (have unused standard exhaust if ya want it)
• Serina's Bling Plate (Spyder)
• Yokohama S Drives, Good tread, Precision Aligned May 14, 2011
• Scion HU
• Maintenance records/ receipts (same mechanic) All maintenance on a wheel lift.
• Mileage is consistently high 30's (37.5 seems typical in the summer) and you wouldn't believe my best tank mileage so I won't post it.
• Routine Clay bar, Polish, Wax, Top coat etc.
• All plastics and lexon protected with 303 aerospace.
• Fitted Car Cover
I bought this from a serviceman for about $13,500 two years ago (May 09) It was top dollar, but he was in the medical field, and was headed back to Afghanistan and owed that much because he added/ financed the clear-bra(s) and an extended warranty. At the time she had just over 10K miles. I paid off his note at his bank. I have never regretted the purchase, nor the price.
Upon purchase I gutted the cats at about 11K miles (they were pristine) and always used synthetic oil. I started with Mobil 1 synthetic, but I soon switched to German Castrol 0w30 after researching this on spyderchat.com and have done Blackstone oil analysis. Last change at 35,391 miles, Blackstone Oil Analysis indicates good for 7K miles.
Last spring I had my mechanic change the fluids throughout: MT90 tranny fluid (4/11/11) and Coolant flush w/ new Toyota "Red" coolant (5/3/2011) This car has had no mechanical issues, is amazingly reliable and so clean you could eat off of any part of my motor.
In October of 2009 the car was hit (scraped) while in my parking garage. Driver's side front bumper, scratch on door, fender. It does not show up in carfax report, (Picture attached,) and a write up was done in spyderchat at that time because we found the person who did it! I have all documents involving the minor repairs and paint. Most damage was to bumper… I had the clear bra replaced, which worked well because they cut it to fit the Screaming Chicken Badge. High-end body shop, all records, receipts and insurance details maintained.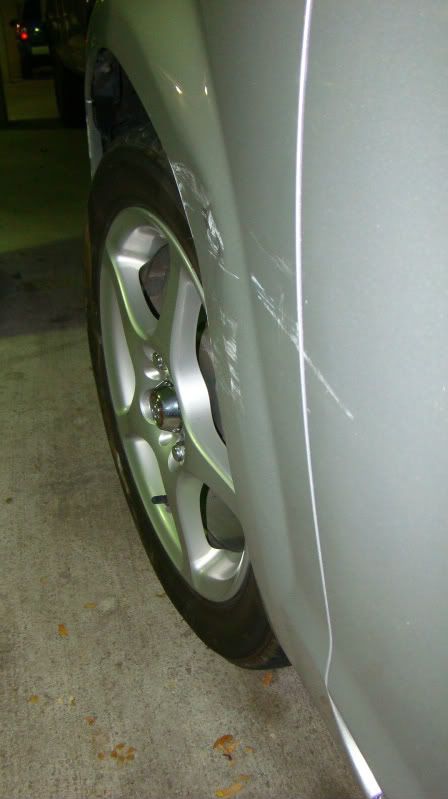 The Silver/ Red combo is rare, and my favorite personal stories involve Toyota salespeople who don't know what it is and are dumfounded to learn it is not brand new from an exotic dealer lot.
I'm a 43 year old professional... this car has been treasured, garaged its entire life and in no way abused. I simply love this car …. So why sell? One word…. LOTUS. I have wanted one since childhood; have the means now; what the heck. I have selected photos to show the excellent condition (Top, headlights, paint, and interior) I do not intend to include the Luggage, unless someone really makes a compelling argument as they were gifts and will look fine in a Saffron Yellow Elise. I am advertising on spyderchat before anywhere else because it is important for me to have her go to a home where her qualities and condition will be appreciated. This car has been good to me, and I feel responsible to see her into a good home.
PM me at spyderchat.