Discussion Starter
·
#1
·
I finally changed the SMT system fluid out of the reservoir today. 1st Toyota (Tacoma Washington) shipped me a can of factory fluid for $110. (Dealers in Florida and Ohio refused, saying it was a hazardous material.) I removed the heat shield from the side of the HPU pump, but that was a waste of time. The only way to get access to the SMT reservoir is to remove the airbox completely. The SMT reservior is straight down below the air filter box. There are only two screws securing the airbox, but you have to fight with about six rubber lines to get the lower half of the airbox free. I sucked the fluid out of the reservoir with a vacuum oil-change tank/pump thing. Here's what I learned in the process:
- The reservoir holds about 1/4 can of Toyota SMT fluid
- The reservoir cap has a vent hole - so forget about any worries of "depressurizing the system" before changing fluid.
- SMT fluid sure tastes like brake fluid
- After you pump the reservoir dry and refill with fresh fluid, you can turn on the ignition (only) and cycle the shifter into 1st and back to neutral repeatedly. After about 8 shifts, the pump will come on and pump your nice fresh fluid around the SMT system. Then you can suck the reservoir dry and refill with fresh fluid again. This is kind of wasteful, but if you repeat it enough times, you'll slowly get the whole system filled with cleaner fluid. (It'll never be completely filled with fresh fluid, you'll just approach complete cleanliness closer and closer…asymptotically.)
Two 10mm bolts hold the airbox in the car: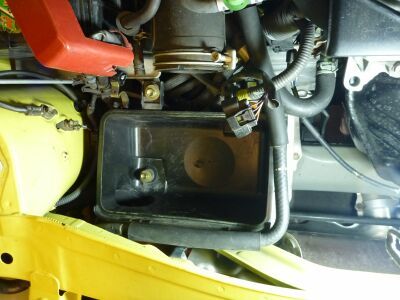 View Down with the air box removed: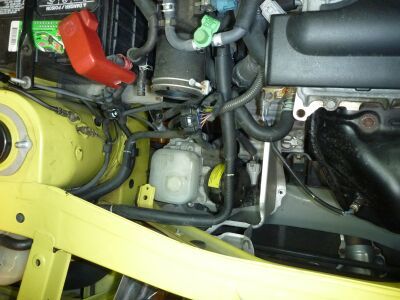 Old fluid level was a little low, and the fluid was darker than the fresh stuff in the can: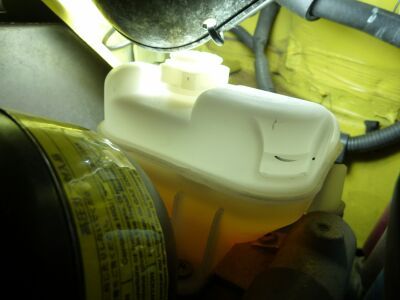 Reservoir holds about 1/4 can of fluid: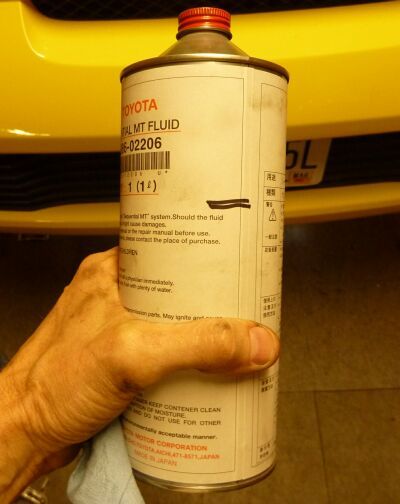 New fluid: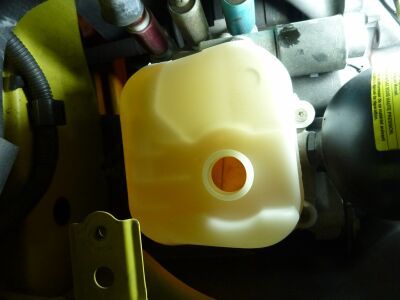 Vented reservoir cap: