--- SOLD ---
Silver with red cloth interior
43k miles
Fantastic condition
Clean Carfax
Located in Fort Worth, TX
$10,500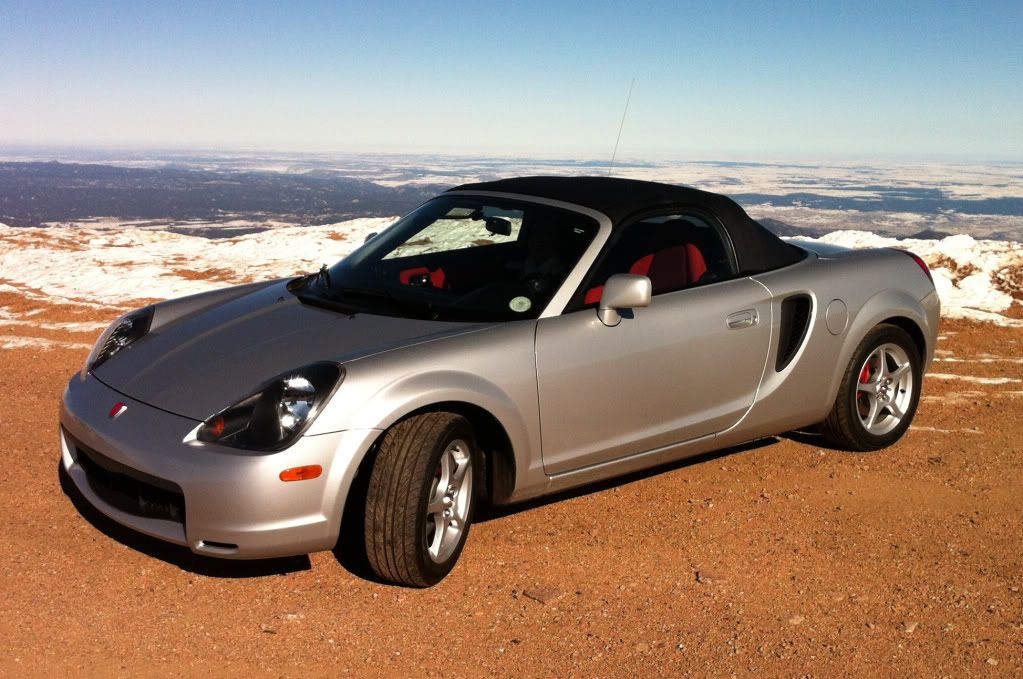 Upgrades:
• Gutted pre-cats, done at 11K miles
• Team Moon Stainless Steel Dual Exhaust
• markS left side exhaust baffle
• Yokohama S Drives, Good tread, Precision Aligned May 14, 2011
• Scion HU
• Clear bra, (A-pillar, mirrors, front bumper, front 1/3 of hood, headlights)
• De-badged (original badges included)
• Red Screamin' Chicken nose badge and steering wheel center
• Professionally painted red brake calipers
• Takuban Spyder stickers on rear calipers
• Dev's top strap,
• Serina's Bling Plate (Spyder)
• Maintenance records/ receipts
• Routine Clay bar, Polish, Wax, Top coat etc.
• All plastics protected with 303 Aerospace
• Fitted Car Cover
• Seat Covers
• 4 piece custom luggage set from Roadtrip Luggage
• Awesome AutoArt 1/18 scale model (2000 silver with yellow interior, new in box) thrown in for SpyderChat members at asking price.
I bought this outstanding MR2 from high_colorado (Scott) last December. Pretty much the entire history of this car from 11k miles forward is documented here on SpyderChat by Scott. Based on that documentation and Scott's reputation, I bought the car sight unseen and my wife and I did a "fly-n-drive" to Denver and drove it home to Fort Worth. Scott was super nice and we had a fantastic trip! Since then, some unforeseen medical and other expenses (like 3 daughters in college) has made me re-think my sanity, and I have decided reluctantly to sell. This car is absolutely the most fun I've ever had driving a car. The silver/red combination is striking, especially with the red accents (calipers, nose badge, steering wheel center), and gets a lot of attention.
The condition of the car was, and still is, exceptional. The only sign of wear on the car is where the shoulder harnesses rub the cloth seats. Other than that, the car shows as nearly new. The body is perfect without a dent to be found, and the paint nearly so with only minor tiny chips below the front bumper in areas that the clear bra does not protect. Windshield has minor pits as does all cars with 40k miles. The condition of the top and all plastic/rubber is amazing.
Check Scott's original for-sale listing
here
for details regarding the history while he owned it and a bunch of great photos. Scott gutted the pre-cats as a preventative measure at 11K miles and always used synthetic oil. Last oil change was at 40,700 miles with Castrol Edge synthetic and Bosch Extended Mileage filter. Scott posted his 35k mile Blackstone Oil Analysis which indicated the engine is in great shape. All other fluids where changed by him about a year ago.
To be upfront (as Scott was), he documented that in October of 2009 the car was scraped on the driver's side front bumper with a scratch on the door and fender. If he had not said anything I would honestly never know. The paint match and minor bodywork are absolutely perfect.
The only thing I have done to the car is remove the carbon fiber dash accents (I think it looks much better without them), removed (but still have) the plastic diapers, and added the markS baffle to the left exhaust tip of the Team Moon duals. The markS exhaust baffle is removable if you want, but makes the exhaust a bit quieter and eliminates the infamous drone, all without losing any of the power gains (about 8 hp I hear). I think it sounds perfect.
I will list it on Autotrader this weekend for $12k which seems fair compared to other listings. I would love for the car to go to someone here on SpyderChat that would love the car as much as Scott and I have , so I will take the first $10,500 if you promise to take good care of her. I think the asking price is more than fair and I will not entertain lower offers until the car goes on Autotrader for a while.
Who knows, perhaps in a few years when my daughters graduate and you upgrade to a Lotus as Scott did, I can buy it back from you.
Let me know if you have any questions.
Regards from Texas,
Dave