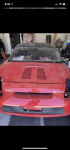 You FS: 2001 mrs rolling shell with unmounted unpainted hard top and full suspension*
Up for sale is my 2001 Mr2 spider ROLLING SHELL ((NO MOTOR NO NOTHING IN ENGINE BAY)) with hard top (needs brackets). Has a full suspension (silversprint powertrix coilovers with 5/7 springs and roller bearing )it's stiff and fully adjustable, undercarriage braces, mb gun metal 15x7 +35 offset 4 x 100 o wheels with 195/50/15'a in front and 225/45/15's in the back Hancock Ventus Rs3's. I have original seats and tail lights as well . A little over 100k on chassis.
WILL DETAIL THE REST OF THE CAR (hood is done) FOR A CONFIRMED BUYER
PINK SLIP PIC ATTACHED
I'm not going accept any part outs at this moment in time. The only time I'll accept selling the hard top if and only if there's a confirmed buyer for both shell and top at the same time.
*I'm not going accept any part outs at this moment in time. The only time I'll accept selling the hard top separate if and ONLY if there's a CONFIRMED buyer for both shell and top at the same time. So if you want the top do some hw for me and fins