Discussion Starter
•
#1
•
I am posting this in Spyderchat before going to the lotus-forum (lotustalk) ....this still feels very much like home!
FINALLY FOUND HER.... I was loosing faith! (I have owned a Gen I and Gen III deuce) I sold my spyder about 2 months ago (Babied 01 silver/ red) with the intent to move to the Elise. In adition to heart-break missing the MR2, The elise market, most likely seasonaly, dried up! I was checking autotrader, ebay, lotustalk, craigslist and even had a good friend trust me with his dealer mannheim auction acct simply to search for my car!
I had vacillated about 6 months on choosing red or yellow (my brother recently purchased a red imported convertible....and made fun of my consideration of yellow.....but I liked it!)
Anyhow, in the past several weeks I decided on red....but just had ZERO luck. I was talking to sellers (dealors) with trad ins from florida, to Cali, to detroit and Phoenix!
I had upped the amt I was willing to spend in my mind, and even began looking at 2009's. BUT, it is not so much the year for me, but the condition, the knowledge OF THE condition, the maintenance records, and the precise equipment I wanted.
I finally seemed to attract it right to me at Ferrari of Denver. Red, 2006 Elise, 3800 miles, ONE owner, babied, maintained at dealor, ECM proof, good carfax...amazing show condition....and totally prepped by a Ferrari dealor!.....I will tell you guys, it was a wee-bit intimidating walking in there....god allmighty...I showed up in my 300K 93 corolla!
Anyhow, I may post more on that later...and will certainly be sharing more impressions and photos.
Equipment ALL DEALOR INSTALLED: was starshield (read: clear bra) touring (leather options and radio stuff and extra insulation I guess) 1 Day-brand-new performance tires, sport package (wheels suspencion) all fluids changed out the day before (we are talking oil, radiator and gears...this is how I sold the spyder and the condition in which I really wanted to find a Lotus) ....The factory stage II exhaust (which I gather is there version of a team moon...it seems a good bit louder) those lights specially installed in the front grill with a modified installed grill to make 'em fit properly..... heck, prolly more stuff, but I am at that total newb age, ..again. (where do I add the headlight fluid on this car????) Anyhow: I drove it last night ((they literally handed me the keys and turned me loose solo.....well, i guess I DID have a tie on).. was simply blown away with driving her (but there are significant caveats in regards to spyder comparisons I will write about later)... had a fitful night sleep, went skiing this morning and decided to call them and finalize the deal!
PIX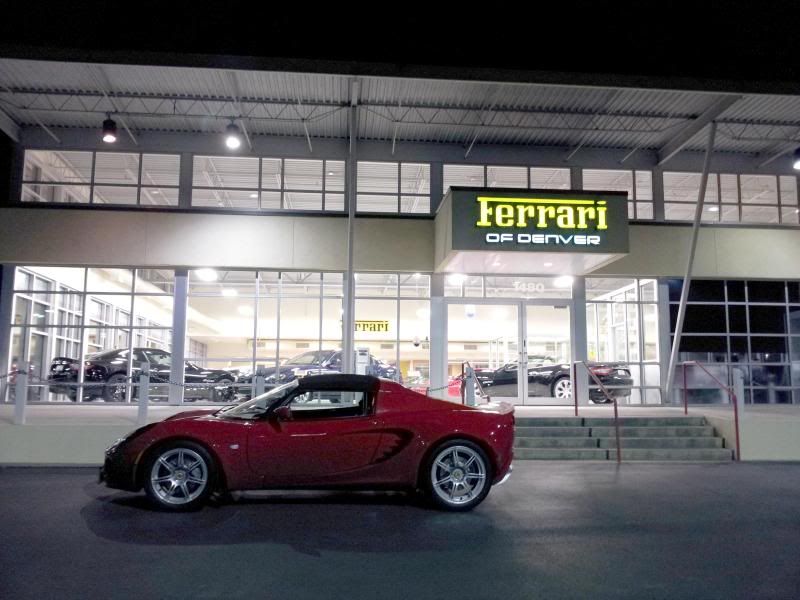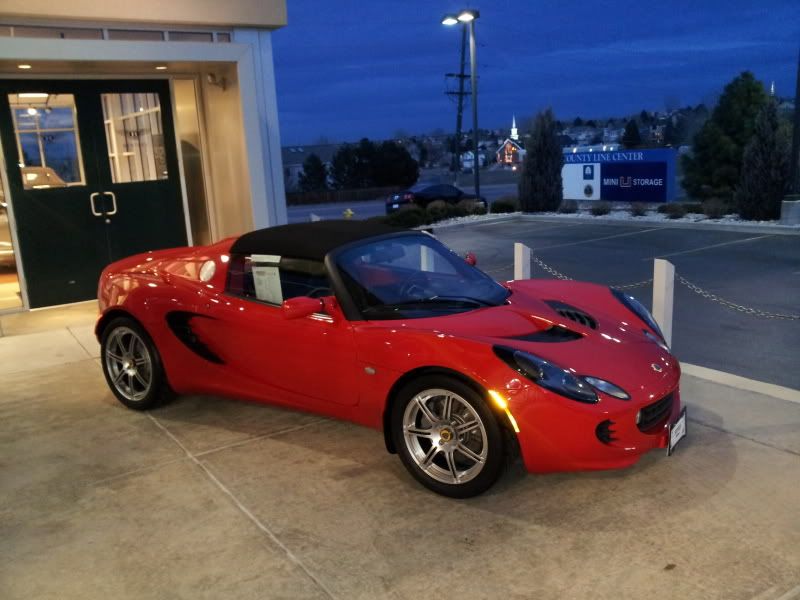 thanks for letting me ramble....it is a cool experience....seeing how far this rabbit hole takes me! ... and I would very much like to share as much of it as you all might let me!
I have a very sure feeling that my MR2 days are not gone.
Scott IN Colorado!!