Discussion Starter
·
#1
·
I'm not intending to go into much detail because I haven't done anything that hasn't been described on here already, but I felt like sharing because I'm happy with how it turned out. At least part of it. More on that later. Finished product first: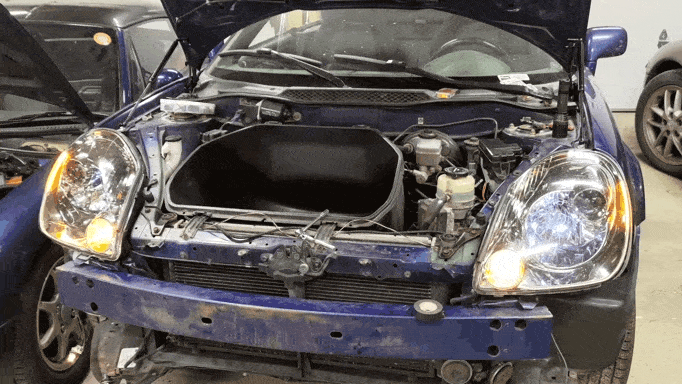 OEM Toyota housings (passenger side is new, driver side is not). I replaced the factory projectors with Morimoto MicroD2S bixenons. 4500k Morimoto D2H bulbs, ballasts, etc. Inspired by Midship Garage's headlights, I threw in an 18" Profile Prism Sequential Switchback strip.
And let me start by saying, this MR-2 has been abused. Both original headlights had broken tabs. The passenger one had an opaque lens. The stud that attaches to the fender was missing and the previous owner just drilled a hole through the headlight and ran a bolt and nut through it. The plastic clip under the housing was missing entirely. And. These bulbs.
Never before have I had to replace every single forward-facing bulb. And none of them were even burnt out, although the LEDs were pretty much there.
I used the Custom Brackets & Designs Mini H1 brackets for the install, and I have nothing but bad things to say about them. They arrived surface-rusty which wasn't a big deal, but I had to cut off a significant portion of one of the tabs just to get the bracket to fit inside the housing. The holes for the plastic adjuster things are smaller than the stock unit so they were hard to work with, and zero hardware was included at all. The intended solution is just to stack a bunch of washers on a screw until everything comes into alignment, which is lazy and stupid. 12 bolts and nuts are required, as well as 6 screws across three different sizes, plus whatever spacer the user decides to use. I used nylon spacers that I cut to length which worked well but ABSOLUTELY should have been included. So with the modified bracket painted and all of the extra hardware installed, I took the car out to align the headlights and saw this.
That's right. These brackets are designed so poorly that the rotation is off by a SIGNIFICANT amount. And for anyone unfamiliar with these headlights, there is no rotation adjustment. There's only horizontal and vertical position, so there's nothing I can do without disassembling everything and cutting/welding the bracket to move several of the mounting tabs. Also note the lower cutoff in the foreground. This is because the bracket places the projector about 1/4" farther back into the housing than the stock unit, leaving an unsightly gap and causing the housing to block the foreground and width of these projectors. This misalignment could be fixed with some spacers on the socket that accepts the housing's ball joint, but any spacers there are going to allow the projector to bounce when going over bumps.
So I don't know what I'm going to do. Obviously I need to reach out to Custom Brackets & Designs, but regardless of their response I'm not terribly motivated to remove the bumper, toss the headlights into the oven, and start this whole project over again.