Installed a Sparco Mugello today with the Works Bell Splash Boss. Not sure if midshipman01 has moved on from these forums, but I thank him for the guide anyways. It's of the the few how-to's that still has pictures up.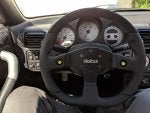 A couple notes:
1.
The steering wheel puller
: I rented a puller aka. "harmonic balancer installer" from Autozone. I didn't need to use it. Also, nobody at that store knew anything about it and even told me I was wrong - until I pulled up midshipman's pictures on my phone. I had also bought a pair of (class 8.8) M8-1.25x85mm bolts from Home Depot that I didn't need to use. Better to have it and not need it I guess. When I was looking through the rented tool set, it looked like it came with a pair of 8 x 12.5 metric bolts now.
2.
The Works Bell Splash Boss
: It's worth the money. I got mine from More Japan in CA, and it was expensive - but it is nice to not have to cut and solder stuff the first time around. You can definitely solder spade terminals for the horn, as well as making a resistor to shut off the SRS indicator. The included SRS canceler works, but u need to make sure your pins are secure. Don't put them in smoothly, stick those pin in at a perpendicular angle and then tape the connector so it can't rotate.
3.
The Horn
: While there are two leads that stem from the included horn adapter, you only need to use one of them to connect your horn. I used the solid black wire. The other wire has black w/ gold stripes and is unused. Also, tape up the connector on the unused wire, if it makes connection with the hub your horn will continuously honk. Other hub installs I've seen (NRG & MOMO) require adding or tapping another ground wire connection. This kit handles the airbag, horn, and doesn't change the turn signal operation.
4.
Do not tighten the center bolt too tight.
The torque rating is around 32 ft/lbs (look it up). You may need to remove the hub to center the steering wheel once it's installed. The new hub isn't exactly easy to remove compared to the OEM hub either. I actually had a difficult time centering the wheel because I do not have flat ground anywhere. It can take a few tries to get it straight.
Use a straight edge and a pencil to mark the wheel/hub position before you remove the original wheel. A fat black marker is not precise enough.
I haven't really driven the car enough yet, but the I can tell that 330mm wheel feels different. You feel your car and the road more, and it requires more force to turn the wheel the same distance. I wish this wheel was closer to me, but I can move the seat.