Spyder Owner and Sightings
Spyder Owner and Sightings Map
MR2 Spyder User Map ENJOY!
(link at bottom as well)
This thread will be used as a Spyder Sighting thread, as well as a way that we can Map these sightings and the Users.
The map is not required, and there has been some concern shown about personal security. Many may object to the idea, and others may embrace it. So, If you would like some basic information, share, however if you are at all unsure, it is totally fine so simply lurk.
For those that would like to be mapped, please supply any or all of the following information:
Your Location
Spyderchat Username
First Name(last if desired)
Car Specs(year, color, mods, whatever you would like to have)
Picture URL(if you want to have one)
Website URL(if you have a blog, or a build thread; If you supply no link, i will use your spyderchat profile which is only accessible to other SC members, unless stated not to.)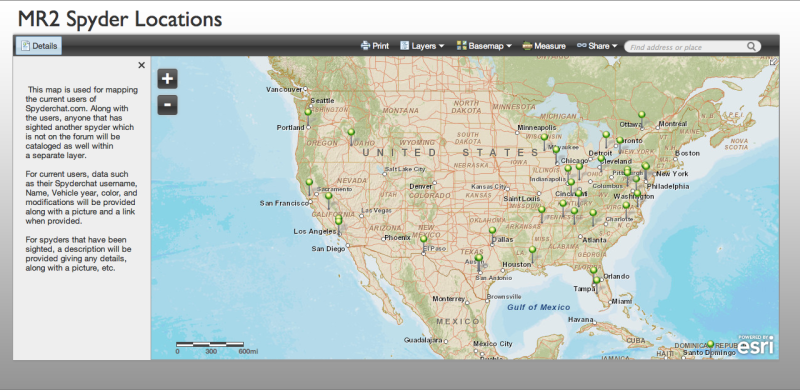 MR2 Spyder User Map ENJOY!
Note: This requires the silverlight plugin for Windows users.
Some are familiar with the Relay map that has been around for years, although it is now out of date. It is hosted by DaSpyder. It has been around for ages(before my join date) and i found it out of date.
Here is the link to that map
and
to that thread.
Don, if you want me to remove this link, please let me know.