My 'Goal' is to get 300,000 Mi out of this Powerplant, and then Go with A 'Fun' exchange. Like a 2zz.. Or K20.. Haven't Figured Yet.. But the First Part of my Plan is to keep the Car on the Road.. And I've been getting Nervous about the 'Rod Bearing Failures' that have been posted on this and other Sites on the 1zz Motor. Some of the Failures have Been Self Inflicted, and Some have been 'Out of the Blue'.. Not wanting to be 'Blind Sided' by any Rod Problems I figured I Drop the Pan and Take a Look-See.. I figured as Long as I was Working on it, I'd take Some Measurements for a 'Bench Mark Test' for others to refer to if they want to know how there motor stacks up to a Mostly Stock babied 100K Mi engine.
One thing that started me Worrying before I Opened it up, was I had a 3 Day weekend, where I did not drive the Spyder at All ( a Rarity ) and when I started it to go to Work, It 'Rattled' before the Oil Pressure Came Up!!.. Holly $heet!.. So that was some of my Motivation to get it Done SOON. I figured I'd be Replacing the Rod Bearings, and I did not Know what 'Number' the bearings Were, so I Purchased a Set Of all the Posable Sizes!.. Only 12 Bucks a Piece.. and 3 Posable Sizes, so that makes the project cost about $144.. still a Bargain!.. I also got some 'Plasti-Gauge' a Serpentine Belt, Pan Gaskett Gue, and Oil/Filter..
I put the car on stands in the 'Shop' and Dropped the Pan.. 1 and Four were already Down, so I worked on them.. I used the plastic-Gauge to check the Clearance of Rod #1.. It came out to 1.2 Thou.. Great, thats just where I wanted it to be.. I looked at the side of the Rod, and It had a #1 on it.. and I looked at the Shell of the Bearing, and It also had a #1 on it as well.. ( Factory Bearing Size ) So I took a Size #1 bearing out of the Box, and Put it in the Rod and Re-Checked the Clearance.. 2.0 Thou!.. What Tha!.?.. So I opened up a #2 bearing.. 1.5 Thou??.. So I installed a #3 Bearing, and it came back to 1.2 thou.. Great, all that work, just to get back where I started!.. But I have new Bearings!..
Went to #4 Rod ( it was Down ).. and Checked the Clearance on it before I did anything to it.. 2.0 Thou! OK this is my 'Slight Noise' before the Oil Came Up. I looked at the Side of the rod and On the shell of the Bearing, and it was also a #1 bearing set!.. So I bypassed the 1 and 2 Bearing set, and went straight to a #3 Insert Set, Installed it and Checked the Clearance.. 1.4 Thou.. Great I'll stop there..
Rotated the Engine so the 2-3 rod set was down.. I could not see anything on the side of the Rod ( it's kinda Tight in there ), so I droped the Shell out, and looked on the Side of It.. Nothing, No Numbers.. So I dropped the Top shell out.. Nothing.. I then took a #3 set of bearings ( everybody else has Liked them So far! ) and Inserted the in Rod #2 and Checked the Clearance on it.. 1.8 Thou.. $heet.. Too wide, and that is with the Factory 'tight' bearing set.. So I went to my Bag of Tricks, and Cut a Set of Shimms Out of Alluminum Foil.. (Pictures are enclosed..) I put a Shim Behind the Lower half of the #2 Rod Cap, and Checked the CLearance.. 1.6 Thou.. Hmmm Still too loose, So I added another Shim to the Set.. 1.4 Thou.. Got It stop there..
Next #3 Rod.. Ended up the same as #2.. No Numbers on the Bearing Shell.. SO I dropped in a #3 set, with One Shim.. Ended up at 1.4 Thou.. Great. put it back together!..
You can Just See the 'Plasti-Gauge' Mark On the Center of The Crank Journal..
Removed #4 Lower Half Insert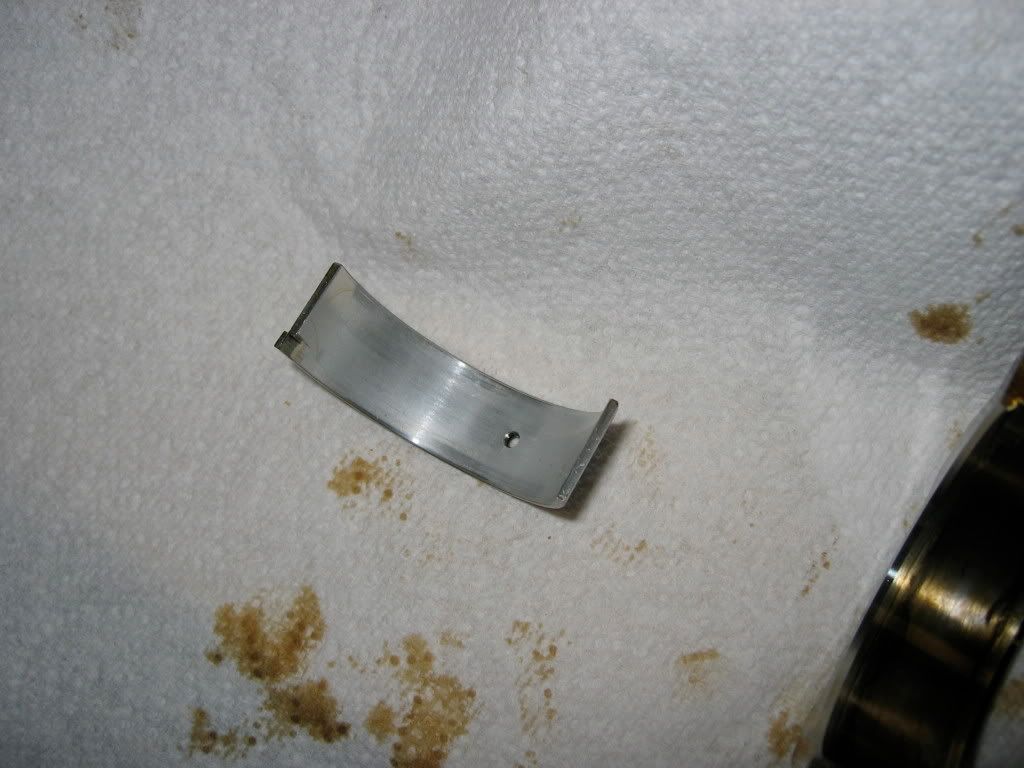 Insert With Shim, Before Installing into Rod Cap..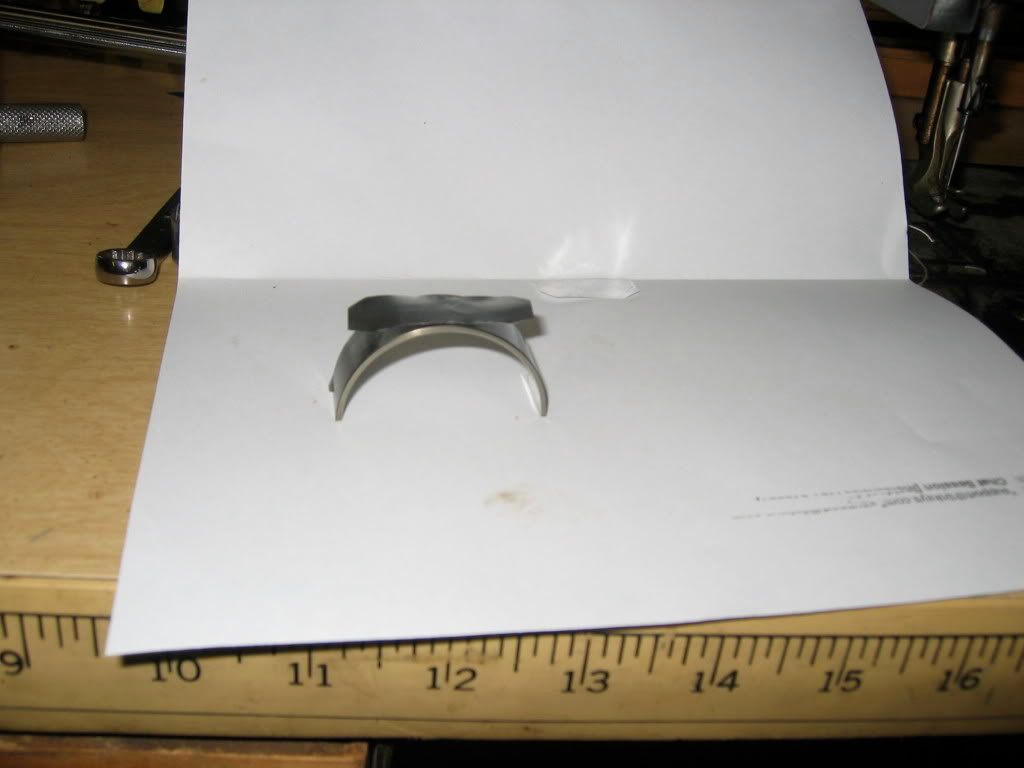 Installed the pan ( and Oil Pick-up ), and Installed new Oil and Filter.. Removed the Plugs, and Cranked the engine Till I got Oil pressure.. Then Cranked Some More for good Measure.. Installed the Plugs and Started it.. I let it Idle for about 45 minuted to allow the engine to get Comfortable with it's new bearings.. I took it easy on the engine for the Week.. Off to Work..
The Next Weekend, I did pressure Checks.. Compression and Exhaust/Cat pressures..
The Compression Pressure, was almost Rock Solid at 218 PSI across the board.. 219-215-216-218.. Great.. Can't do Better.. The Exhaust Pressure was Not what I expected.. Usually a Good Cat Converter, will have Less than 2 PSI in the Exhaust, as Measured with a Pressure Gauge.. I ended up installing one of my 'Freon Service Gauges' in the Compression Tester, and Screwing that Into an O2 Sensor Hole, in the 'Pre-Cat Chamber'.. ( Che Header.. Not Pre-Cats ).. to take my reading..
Modified Compression Tester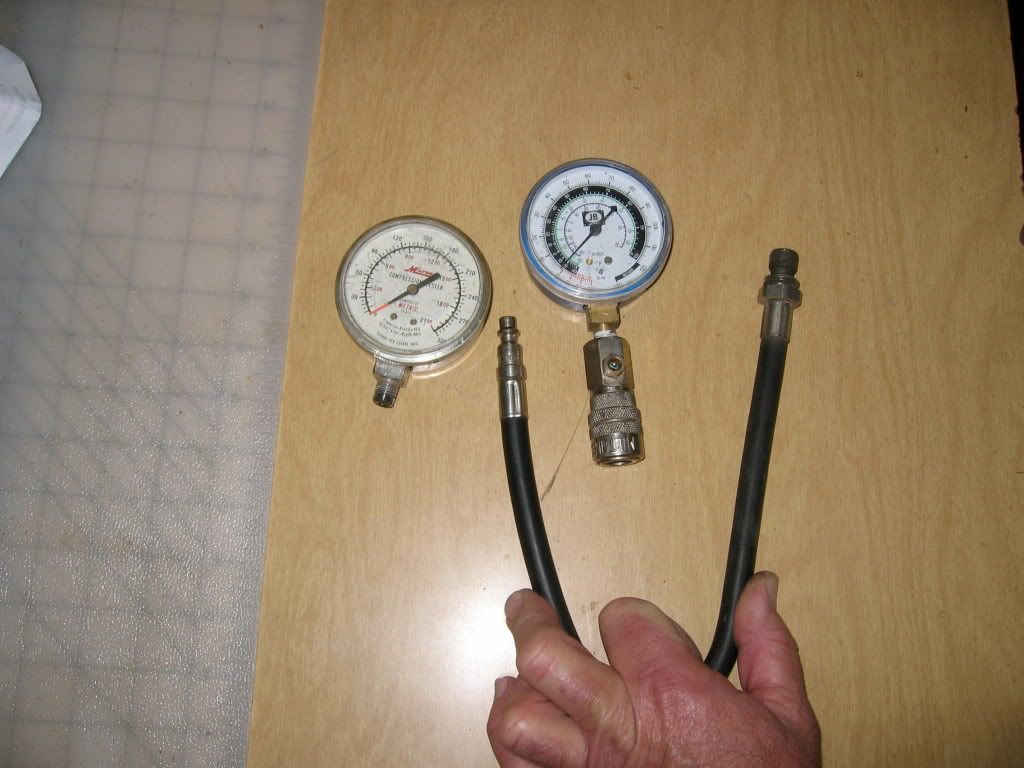 I took off all of the O-Rings from the Compression Tester ( They'd melt Any-ways.. ) and Screwed it into an O2 Sensor Hole.. Went for a 1st and Second Gear Run WOT till Rev Limiter Hit ( The bearings now have 875 miles on them, so WOT is OK now )..and stopped and Checked to pressure gauge ( it has a Check Valve in it so it won't Drop Down in pressure ).. It was at 12 PSI!.. What Tha!.. So I returned Doing a 1st and Second Gear Pull to 5 K and Shifting.. 2 PSI.. Thats what It should be..
So, Either my Cat is Starting to Plug, or I need to Install a High Flow Cat!.. Anyone with a High Flow Cat ( Stock Exhaust ) Willing to Repeat this Test, to see if it's the Cat or the Exhaust that is 'Restrictive'.. Please Post your Results..
I hope this Bench Mark Test will be Usefull, as to the Exhaust pressure and Rod Bearing Clearances and Wear..
EDIT:.. The Car now has 213K Miles on it.. Still on the Same Spark Plugs.. Been Gapped a Few Times.. and Still Using the Shimmed Rod Bearings..
Just Ran Compression Numbers, and Re-Gapped the Plugs getting Ready for the Smog Inspection..
Plugs are Looking Really Good for 213 K Miles.. Here is a Shot..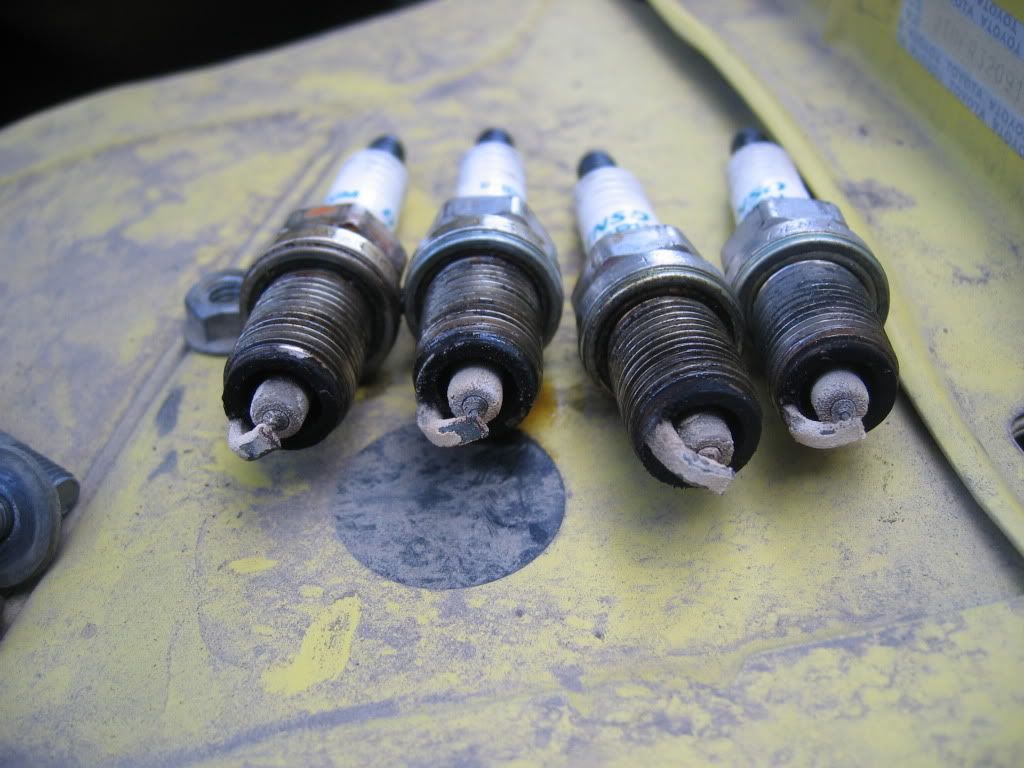 The Compression Numbers look Good for a 200 K Mile Motor.. Bottom Line Numbers..
My Son and I Did a 'Fun Run' out to the In-laws House on a VERY Twisty Road.. He was following in the Mk1, and I was leading in the Mk3.. His Comments were '.. Hey Dad.. It's Death Pluming!..' Referring to the Smoke out the Tail Pipe, when Revving and Shifting..
Looks like it's LIKELY Intake Guide Seals.. as it will ONLY Smoke, after a Deceleration, then Acceleration.. and it will Only 'Plume'.. and not keep Smoking..
Comments Encouraged!
Cap