The good news is someone is going to get a really nice Spyder.
The Story: Purchased this car thinking it was going to be a great daily driver as my SW Turbo was being reawaken. Since that project is off schedule, the Spyder was so exciting that I had dreams of turning it into a track car and the SW becoming the daily.
Life pushes and pulls in different directions. After only owning this car for a great 4 months, I have decided to sell as a result of those life adjustments. As you can tell by the most recent mods it was being prepared to realize its' full potential but as most if not all you know, it is an expensive en devour.
My plans and focus have shifted to finishing my 1st project and preparing to purchase a house. As a result, this amazing Spyder does not fit into those plans and is now up for sale. I have not placed it on craigslist or ebay or autotrader, etc. I thought I would post here to start, as this is the home of the MR2 Spyder.
If there are questions please PM or post, other information, full disclosure is in my build thread, link located in my signature.
Clean title car, smogged and registered through September 2013 (yes over a year,) in CA under my name. Located in Los Angeles right next to LAX airport.
Misc. stock interior pieces will be included, along with 8 or 9 Toyota OEM oil filters, maybe other stuff that I find.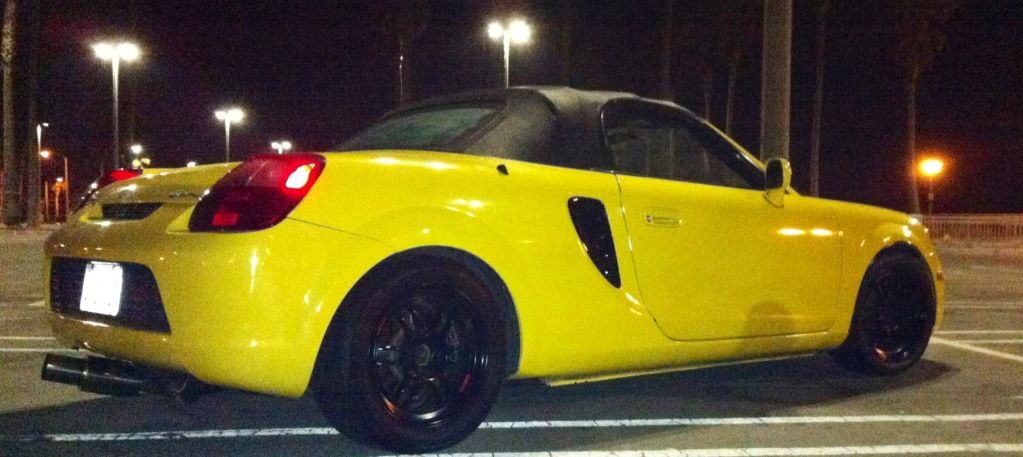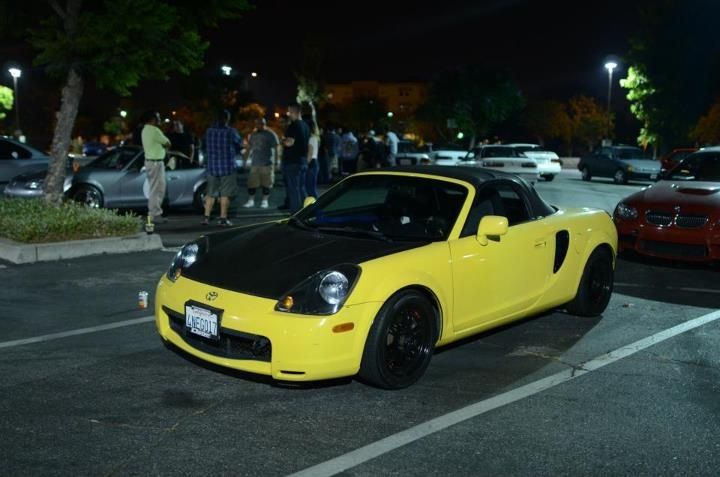 Looking for $9,600 obo
Current Situation:
2000 Toyota MR2 Spyder Solar Yellow 117k
2ZZGE around 39k (Matrix XRS)
C60 transmission 4.52 about 24k (Matrix XRS)
Celica Header with 1zz flange(Celica GTS)
Apex'i Evo Exhaust
Lotus K&N 4" Intake
Exedy Stage 2 Clutch
Fidanza Flywheel
Tein Super Street Coilovers
TRD Front Tower Brace
Seibon Carbon Fiber Hood
Enkei RPF1 15x7 (limited black edition)
Falken Rubber 195 Front/ 205 Rear
Project MU Brake Pads
Apex'i Mounted Tach Pod
Apex'i Grounding Kit
JDM Navpod
TRD Shift Knob
'03+ Side Vents
'03+ Lower Diffuser
Monkey Wrench Racing Short Shifter and Base Bushings
Speed Source Cable Bushings
Moroso 6qt. Baffled Oil Pan, Quick release Drain Plug
Che Front Lower Brace
Che Rear Lower Brace
Razo Concave 14" Rear View Mirror
Razo RA66 Carbon Shift Knob 400g
Corky Breast Plate (on order)
A/C is hooked up and blows cold
Heater works great as well
Drivers seat is worn on bottom cushion, not ripped.
Original floor mats, but drivers side is looking tired.
2 small holes in soft top, patched, no leaks.