Discussion Starter
·
#1
·
About less than a year ago I purchased a 2003 spyder for an awesome deal. The only problem was that it was an SMT. I could never seem to enjoy my spyder as much as I did with my manual spyder. Recently my SMT would not shift and left me stranded at work. I had problems before and the problem would seem to fix itself. Not this time. Rather then spending time trying to figure out whats wrong I think its time to do what I always wanted to do. Go back to the manual.
I have been collecting parts over the past few months just to get this project started. Heres what I have so far
-Clutch Pedal
-TRD Short Shifter with Assembly Mount
-Shroud for shifter
-Master Cylinder
-Slave Cylinder
-Shift cables from shifter to Tranny
-6Speed LR Shifter Shaft
Things that I still need
-Main Clutch line from Master Cylinder to Slave Cylinder (Waiting on a parted out Spyder)
-Fabricated Plate to block SMT tranny
-Lots of shifter stuff on tranny that connects to manual
-Misc, Misc, Misc
I have been using Deans blog to guide me on the conversion
Dttsou's 300WHP Blog
Simon, Curt, Dev and the spyderchat community has always been very helpful and I really do appreciate all your help.
So here's where Im at so far.
Heres where the SMT hides, right under the stock air intake box.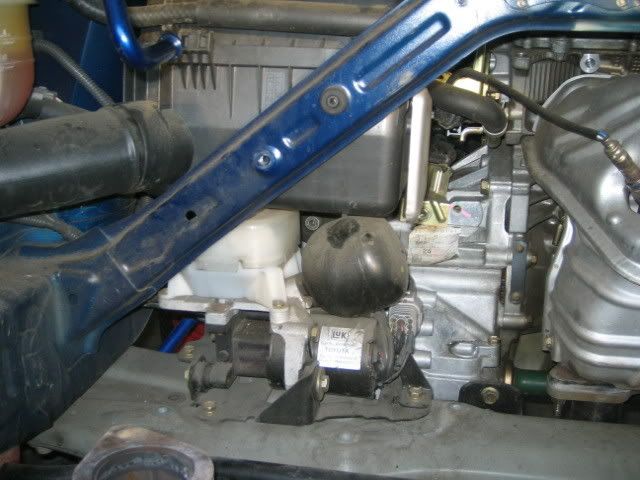 Heres a view of under the car behind the tranny with the smt removed from the tranny. 3 Wire plugs are for the SMT. I will need to stencil where the SMT attached to the tranny and get a plate to block that so gear oil wont spill out.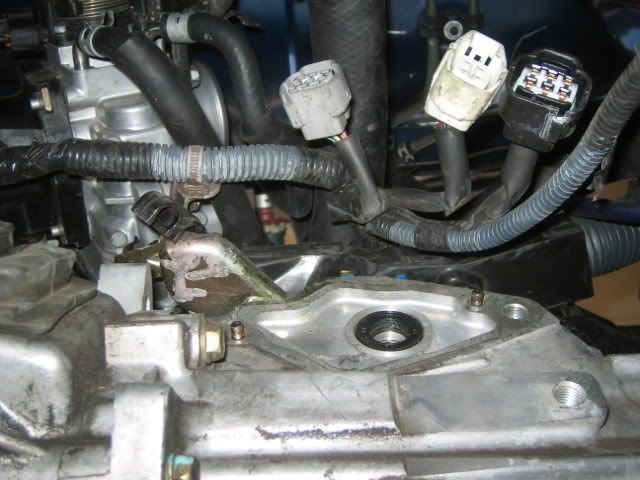 To the left of that is the clutch actuator arm. As you can see you can see to the left of that is 2 holes where the slave clyinder will mount and engage the arm.
I had to remove the shifter shaft and replace it with a 6speed manual shaft
Top shaft is LRs and bottom one is one from SMT. Gonna swap up the little bits here and there to fit on the LRs shaft
Heres the the view from right under the steering wheel and the pedals. There is a spot to add the clutch pedal and the master cylinder. I need to cut a bit hole in the middle and 2 small ones on the sides for the bolts.
Removed the smt shifter which is a pretty hefty unit for being a plastic piece. Heres the TRD shifter with the shroud that I will install once I figure out how the shifter cables connects to the shifter to the tranny.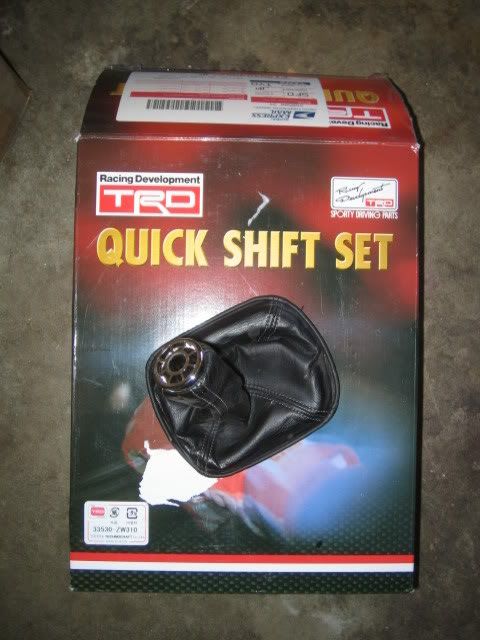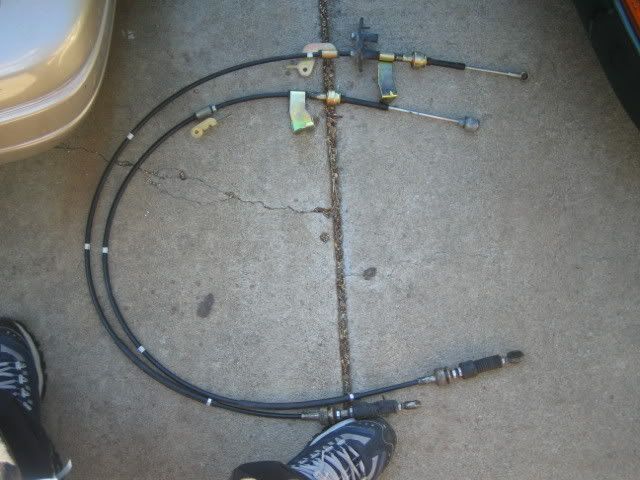 Heres a the SMT and the hydraulic pump. These 2 units are pretty heavy Im guessing about 25-30lbs.
So the easy part is over. Now for the hard part. Im gonna need help from here on.
-Cutting the firewall for the clutch pedal and master cylinder.
?I never had to cut a firewall before. What would I use to cut the shapes that I want? Better yet anyone have a pic of their master cylinder? I can eye ball it.
-Shifter cables from the shifter to the tranny.
?I have the cables I dont know where they go through.
-Shifter cables connects to tranny.
?Well once I figure out how to get the cables through how do I connect it to the tranny? I know Im missing hella parts that connects the cables to the tranny. Does anyone have a pic of their the cables connect to their tranny?
-Main Clutch line
?I am still waiting for the cable to come in from a parted spyder. If it does not come by the end of the week I may go to Mr.T and buy one for $$$. Where does this cable line through? My service manual does not specify where the clutch line from the master go to the slave???
I forgot to mention that you also need to take your throttle body and cut the piece that prevents it from WOT. This was a LR mod to make your SMT shift faster. Ive done this months ago and I highly recommend any smt user to do this mod that dont cost nothing but your own time. I will also need to connect the starter wire to the clutch pedal button. But Im not even there yet.
There is still so much work ahead of this project. For me its very overwhelming. Simon and many others have told me that its better selling your car and buying a manual, but I guess I was just curious on how it worked. Now that I know I will not do this mod again. Mainly because getting that parts was a real pain and doing this mod I really had no direction just reading Deans blog and pestering knowledgeable members. I do remember that there were some members that wanted to do a manual to SMT. After working on this your biggest problem will be wiring harness. There are SOOOOOO many wiring on its not even funny. Wires from the steering wheel, shifter, ECU, SMT ECU, tranny, SMT and many more places like fuse relays. I would say this is impossible but nothing is impossible if you put the time and money in it. Might as well sell your manual and buy an smt. Well the weekends over wont be able to do much until next weekend. Until that time more parts to come in. Im tired from working on the car and typing Im gonna sleep now. So yeah help help help guys!!!