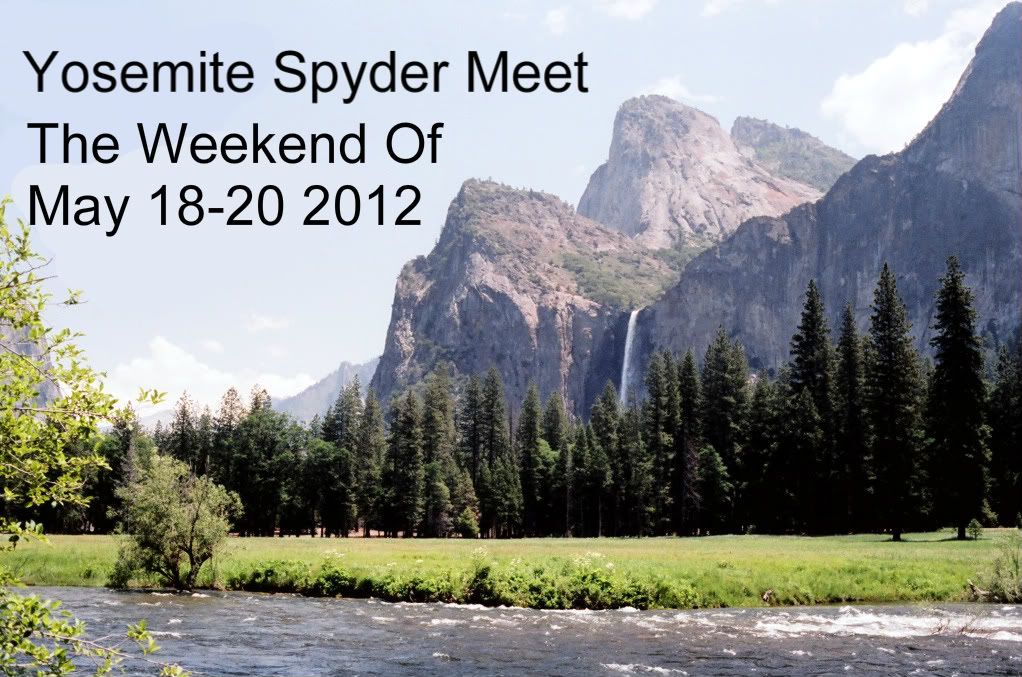 Start signing-up so I can get a head count. First 30 to sign-up and show-up will each receive a goodie bag of treats (one per car). There will be door prizes for categories like "Spyder that came the furthest to attend" and "Spyder voted best liked by those who attend."
Friday night starts in Fresno (for those who want to come early) with a wine tasting and movie in the park at Engelmann Cellars.
http://www.engelmanncellars.com/
Saturday morning we can meet for breakfast some place along the way (this kind of depends on how many people sign-up) and then a drive into the Yosemite National Park at 10:00 AM. Entrance Fee is $20 per vehicle and everyone pays their own entrance fee.
http://www.nps.gov/yose/index.htm
I was not able to get a special use permit for the Park, but Park Officials recommend that we meet inside the Park at the left side turn out/row parking before the Tunnel of "Tunnel View" on Highway 41 for a Spyder group photo. We won't be able to reserve spaces anywhere inside the Park and this was one of the places that Park Officials recommended. They also recommended Glacier Point and Mariposa Grove. Who knows, we might want to try all three places. Let me know what you think.
It might be difficult to arrange for lunch in the park – everyone in one place. What would you think about everyone brings their own picnic lunch?
At the end of the day, we could drive out of Yosemite and take the 120/140 exit down to Mariposa and meet for dinner someplace and then folks could split-up and head home from there. . . . or . . .
If people wanted stay in the Oakhurst/Bass Lake area Saturday night, another option would be the Moonlight Special at the Yosemite Mountain Sugar Pine Railroad –
www.yosemitetrains.com
. This would include dinner (steak or chicken) train ride and entertainment.
Here are a few of the hotels/motels in the area:
Best Western Yosemite Gateway Inn, Oakhurst –
www.yosemitegatewayinn.com
800-545-5462
The Pines Resort on Bass Lake –
www.basslake.com
– 559-642-3121
Queen's Inn by the River (with Wine Tasting and Wine/Beer Garden) –
www.queensinn.com
559-683-4354
If you are looking for more places to stay or things to do while in the area, contact Rhonda Salisbury at
www.yosemitethisyear.com
. Rhonda is good people and really knows the area.
Okay, that's a start. Ideas are welcome. None of the above is cast in stone. Start sign-ups in the next post and let's see how many Spyders we can get together for this meet.